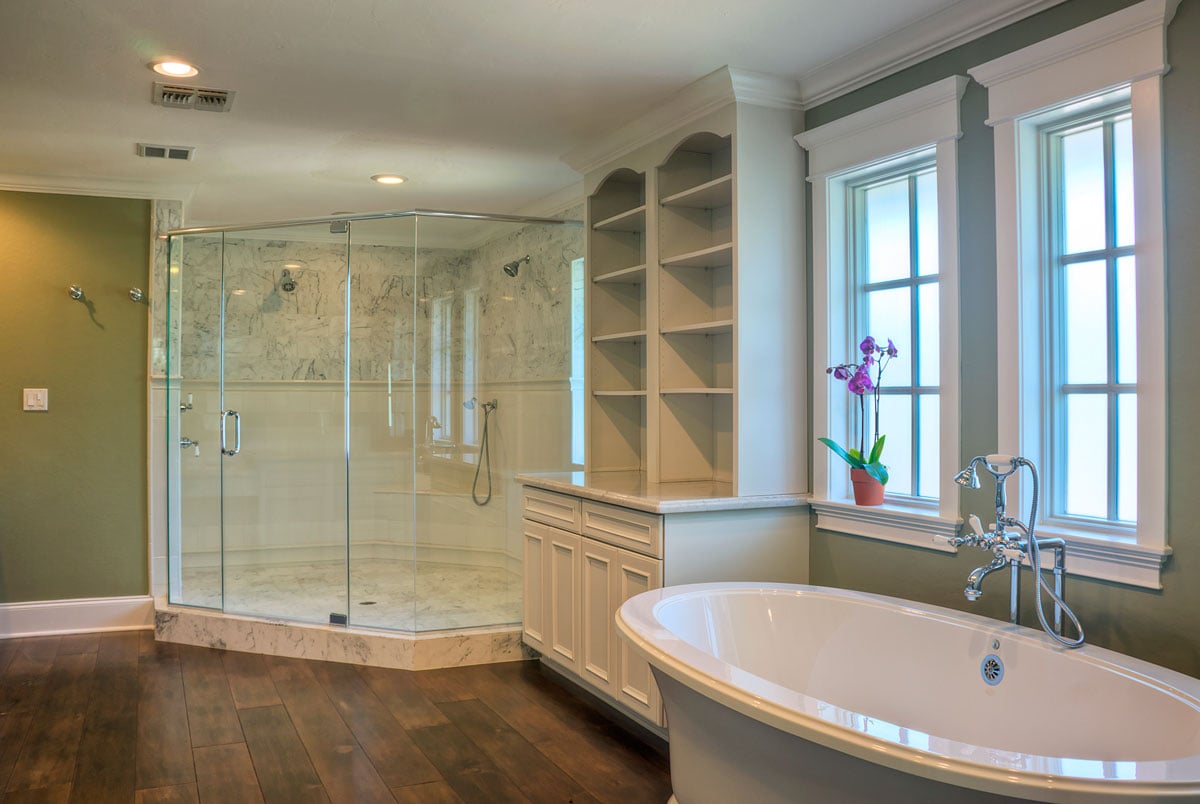 Scottsdale Bathroom Remodeling
Investing in a bathroom remodel adds value to your home and makes your bathroom work and look better.
Caine Company is the premier Scottsdale bathroom remodelingstrong> contractor, providing the highest quality services and products to homeowners in the area. We have a professional bathroom redesign team that can create a new bathroom that suits your preferences and needs. We also offer smart bathroom design solutions that can help you save money and energy. We'll help you make a good plan for your remodeling project and choose the right materials and fixtures.
Bathroom Remodeling Services
Whole Bathroom Remodel
The whole bathroom remodels a comprehensive service that includes demolishing the existing bathroom and installing new features and finishes, plumbing, electrical wiring, and fixture installation. Whether you want to build a big, completely new bathroom or make a small change, a complete bathroom redesign may be the best. Caine is the perfect company for your bathroom remodel because we have the skills, experience, and knowledge to deliver quality results on time and within budget.
Fixtures Installation
Whether replacing old or brand-new fixtures, fixtures installation is an important part of any bathroom remodels. It can include sinks, faucets, toilets, showers, tubs, and even bidets. Choosing the right fixtures can make a big difference in the overall look and feel of your bathroom and its functionality. We test the fixtures before installation to ensure they function properly, and we provide the highest quality materials designed to last.
Flooring Installation
Flooring is crucial when remodeling a kitchen because it not only adds the finishing touches to a bathroom but also provides a layer of protection from water and other elements. Some popular choices include tile, vinyl, and wood, each with unique pros and cons. Whatever type of flooring you choose, it's important to make sure it's suitable for use in a bathroom, as this space can be prone to moisture and spills. Caine can help you select flooring that'll match the space's overall aesthetic, budget, and personal preferences.
Updating Plumbing Systems
Updating the plumbing system in your bathroom is an important part of any remodel, and it can be a complex and technically demanding process. It can include everything from installing new pipes and fittings to replacing old appliances and fixtures. Depending on the extent of the work, updating your plumbing systems may require the services of a licensed plumber. We have a team of experienced and licensed plumbers who can help you with all your plumbing needs. They are well-equipped to handle plumbing issues, from minor repairs and maintenance jobs to complex installations.
Planning Consultation
At Caine, we believe planning is the key to a well-done job. Therefore, the initial stage of any project is a comprehensive consultation with the customer to identify their unique requirements and objectives. At this point, we'll ask you some questions about your preferences, timeframe, and budget. We will also go to the area where the project will be done to learn more about it.
Design Plan
We'll start developing a design strategy after we have a firm grasp of the scope of your project. It may involve making detailed plans or drawings, choosing the right materials, and figuring out how the space will be laid out and how it will look. Throughout this process, we'll work closely with you to ensure that the design plan fits your needs and goals.
Material Selection
After the design plan is finalized, we'll move on to material selection. It is an important step in the process, as the materials we choose will significantly impact the overall look, feel, and functionality of the space. We'll work with you to find both aesthetically pleasing and durable materials, considering your specific requirements or preferences.
Construction
Once the material selection is complete, we'll move on to the construction phase. It's when the framing, designing, or remodeling of your space will happen. The engineers and contractors within our workforce will fulfill your vision with our best quality and precise work. We'll keep in close contact with you throughout this process to ensure everything is going as planned and to answer any questions or concerns you might have.
We are proud of our commitment to excellence and customer satisfaction at Caine Company. We have a team of professionals with a lot of skill and experience who work hard to give our customers the best services and products possible. We have a history of finishing projects related to bathroom remodeling in Scottsdale on time and within budget. Our team also adheres to the highest safety standards and ensures that applicable building codes are followed. Contact us today to learn more about how we can help make your dream project a reality.
Reserve A Consultation With the Experts At Caine & Company